Stadium Village Townhomes
Upscale Gated Townhome Community
Map Search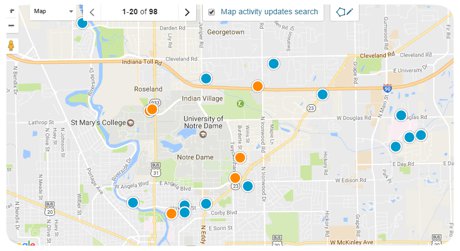 Recent Sales
About Stadium Village Townhomes -
Built: 2000's
City: South Bend
Zip Code: 46637
Schools: South Bend Community
Similar Neighborhoods: Ivy Quad | Irish Crossings | Wexford Place
Stadium Village is an upscale community of Thirteen luxury town homes with amazing views of Notre Dame Stadium. Located just one block from the campus of Notre Dame and the sports practice fields (just South of Ivy Quad and Irish Crossings). This is a very unique opportunity to be this close to Notre Dame campus and sporting fields! You are just minutes away from Eddy Street Commons, local restaurants, shopping, and great pubs. Pricing ranges from $499,900 and up for The Varsity up to $750,000 for The Heisman. These are Luxury town homes... among the closest new developments to ND and the stadium. Amenities include large balconies and wet bars. Gated complex with garages. Construction is now complete and units may be available to purchase now!
Townhomes for Sale in Stadium Village:
Properties for Sale in Stadium Village. Because there are so few of these built, it is rare to see them for sale. If there are no properties shown below it is because there's nothing available at this time.