Oak Hill Condominiums
Map search
Click the map below to view any Condos currently for sale in Oak Hill. If nothing is shown there's nothing available through the MLS. Contact me at (574)329-9587 to see if anything might be coming available in the near future!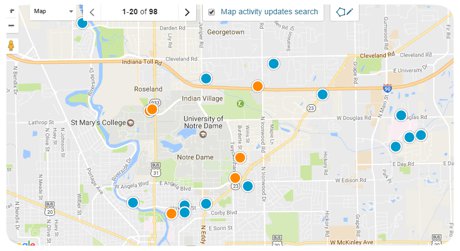 Recent Sales
Click the Recent Sales tile below to view sales in Oak Hill dating back 12 months.
Affordable Condos walking distance to Notre Dame!
About Oak Hill Condos -
Built: 1988
City: South Bend (near Notre Dame)
Zip Code: 46637
Schools: South Bend Community
Market: Click Here
Similar Neighborhoods: North Shore Club | The Forest | New London Lakes | Dublin Village
Oak Hill Condos consists of 101 condominium units built on a 5 acre site in South Bend Indiana. Oak Hill was built in 1988 and is still a favorite of Notre Dame students, fans, alumni and was once the home of the infamous Rudy. Six different unit styles are grouped in a variety of building configurations and include studio, 1 bedroom and 2 bedroom (with or without basements or garages). Many units with basements have been finished making some floorplans more popular with as many as 4 bedrooms in one unit. Amenities in select units include cathedral ceilings, loft spaces, skylights, and gas fireplaces. Parking passes are required and there is guest parking at the Oak Hill club house. Association Fee includes Water / Trash and Pool. Rentals are highly restricted and limited. NOTE: Pet and Rental restrictions. If you're looking for a rental property click here.
Pricing: $140,000 - $200,000
Garages: Optional - can be purchased serperately
Clubhouse: Yes
Pool: Yes
Facebook: Click Here